Yam Air turns your iPad or iPhone into a wireless external monitor for your Mac.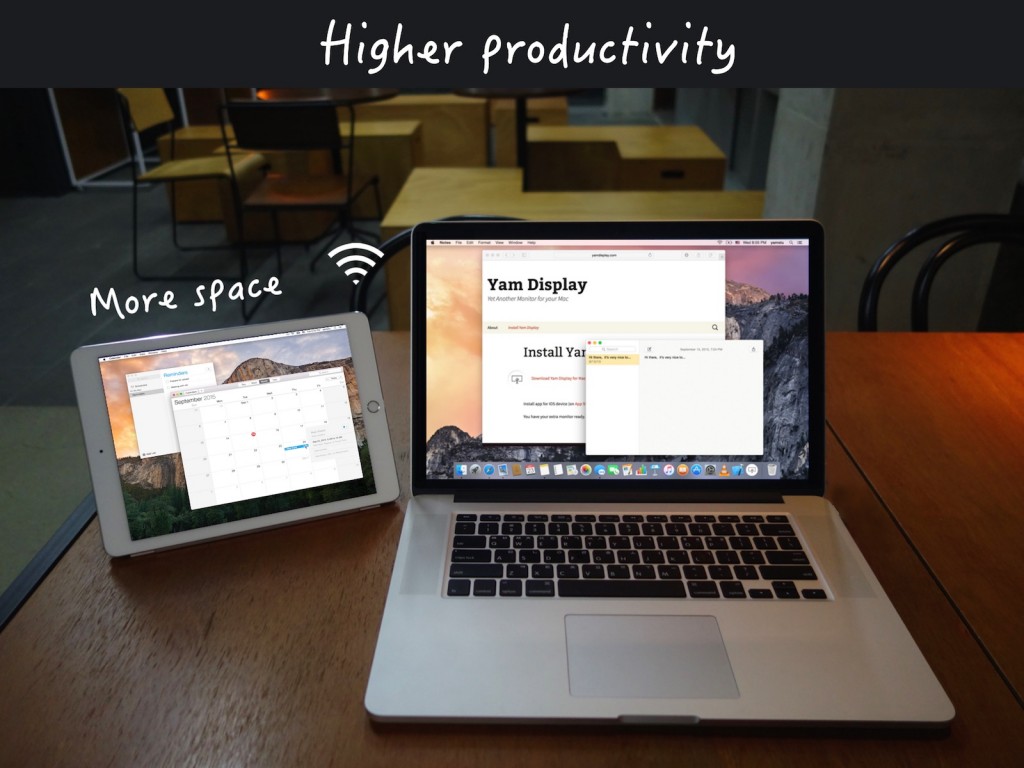 Install Yam Display for Mac and enable air mode by preferences menu.
Nearby Yam Air will be tuned automatically when both systems have Wi-Fi turned on.
For devices that support Air Drop, even internet connection is not needed.
Handy for simple tasks like browsing or text editing by extending display when you are out in the café or outside.
You can control your Mac on the couch by mirroring/extending display with touch gestures and onscreen keyboard.
For detailed guide, please check out the Yam Display about page.
Key Features:
– Peer-to-peer connection
– Support extend display / mirror display
– Energy efficient for static screens
– Retina display (optional)
– Support Split View
– 30 FPS / 60 FPS (optional)
– Touch Gestures: Click / Zoom / Rotate / Scroll / Drag
– Touch Bar simulation (for any Mac with macOS Sierra 10.12.2 or later)
– Support onscreen keyboard (launch by 3 fingers tap)
– Support hardware keyboard and mouse
Plus Feature:
– Drag and Drop between iPad and Mac (for iOS 11 or later)
System Requirements:
– Macs released after 2012 with OS X 10.10 or later:
* MacBook Air (Mid 2012 or later)
* MacBook Pro (Mid 2012 or later)
* MacBook (Retina, 12-inch, Early 2015)
* iMac (Late 2012 or later)
* Mac mini (Late 2012 or later)
* Mac Pro (Late 2013)
(※ Other Macs can cause delay)
– All iOS devices with iOS 8.0 or later
(Best for devices that support Air Drop:
* iPad 4G or later
* iPad Mini 1G or later
* iPhone 5 or later
* iPod Touch 5G or later
※ Other devices need reliable Wi-Fi connection or bluetooth pairing)
For any questions or suggestions,
contact us: help@yamdisplay.com