Yam Pad turns your iPad into a Drawing Tablet for Mac with Apple Pencil.
Yam Pad for iPads, Yam Pad Mini (free) for iPhones.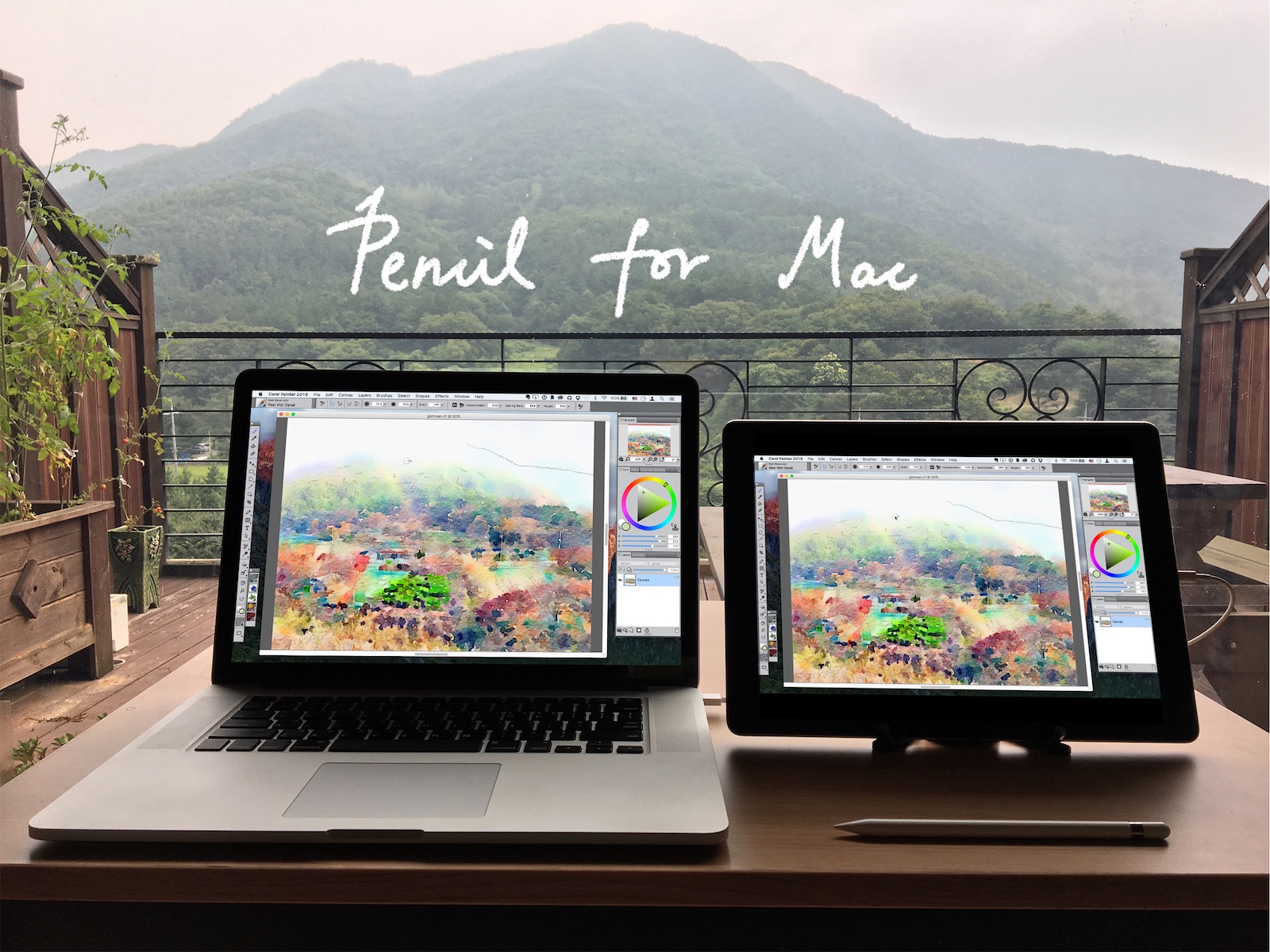 ---
On your Mac, install Yam Pad for Mac and connect by USB cable.
Yam Pad icon will appear in the menu bar: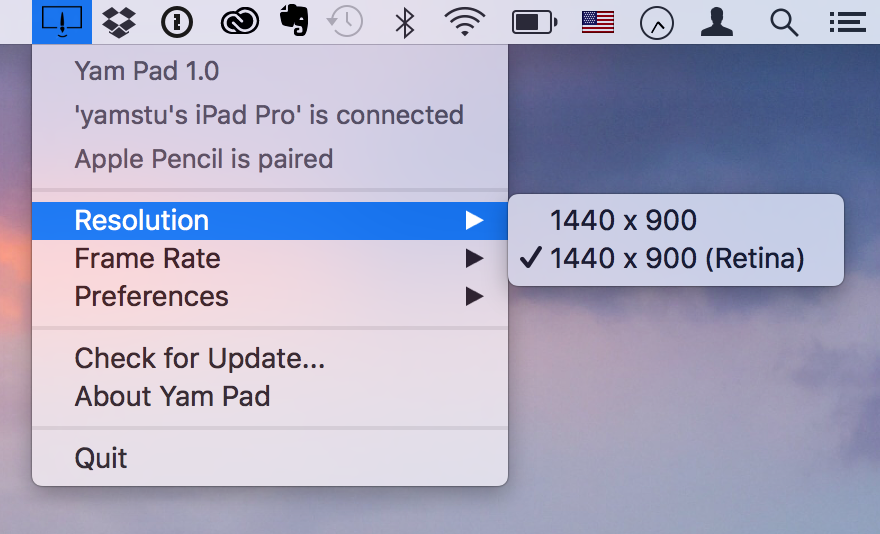 Resolutions
You can choose resolution of Yam Pad: Retina(HiDPI) or a non Retina one.
Because Yam Pad mirrors the main display, other resolutions can be chosen by "System Preferences > Displays" of macOS.
Frame Rate
You can choose a frame rate from 30 FPS / 60 FPS.
30 FPS is energy efficient, 60 FPS is much smoother.
Preferences
– Launch At Login, launches Yam Pad when you log in.
– Auto Update App, updates Yam Pad for Mac automatically.
– Use System Mouse Cursor, sends the default mouse cursor to Yam Pad. If this option is not set, mouse cursor will be managed by Yam Pad with faster movement and more readable size.
– Enable Touch Bar, simulates Touch Bar for any Mac with macOS Sierra 10.12.2 or later.
---
On your iPad/iPhone: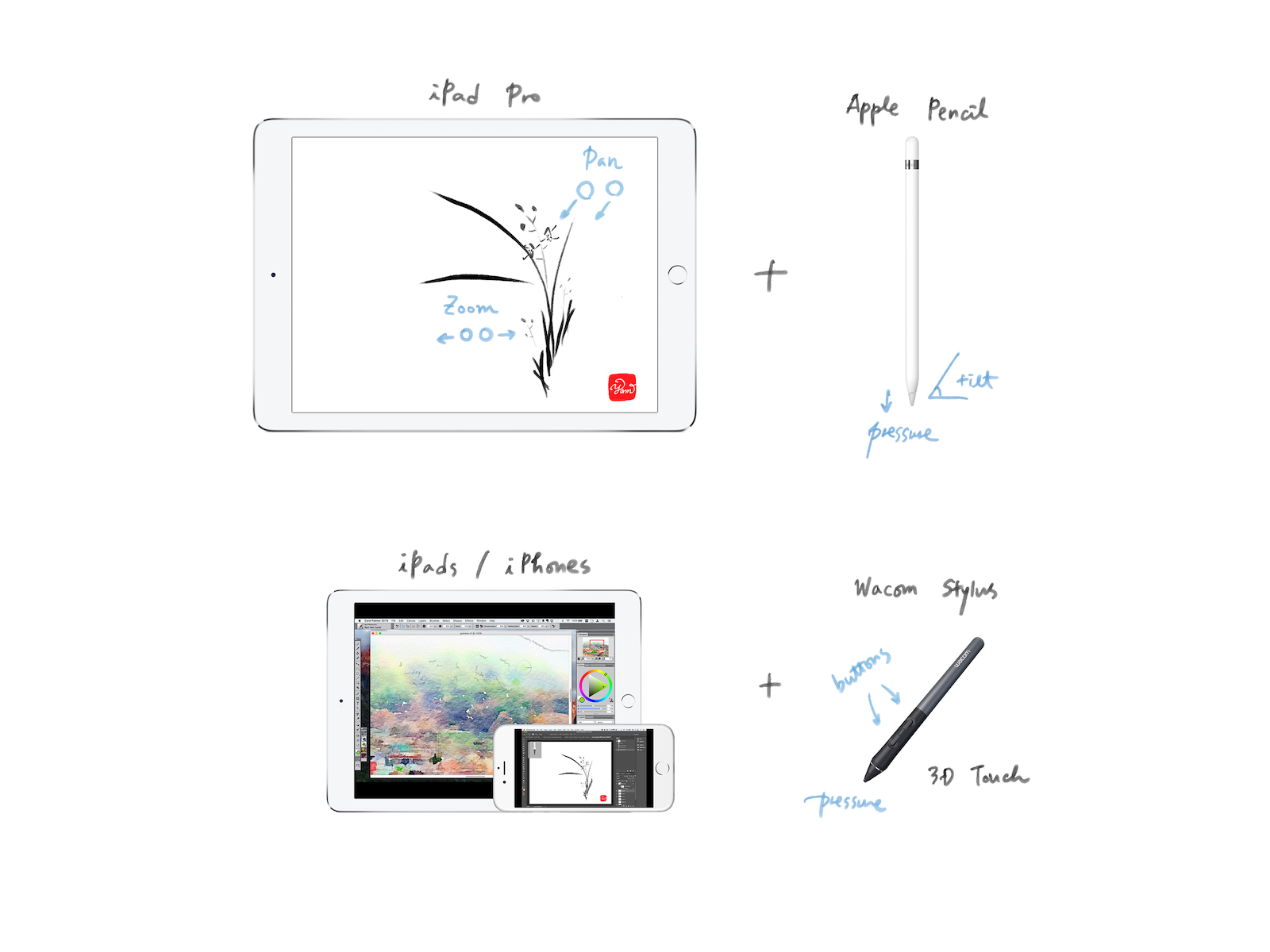 Apple Pencil and Stylus
– Support Apple Pencil pressure sensitivity and tilt for iPad Pro.
– Support Wacom stylus pressure sensitivity and buttons for other iPads/iPhones.
Touch Gestures
– One finger gestures to draw or drag (3D Touch for iPhones).
– Two finger pinch to zoom in or out canvas.
– Two finger drag to pan canvas.
– One finger tap to click.
– Two finger tap to secondary click (context menu).
Mac Apps compatible
– Photoshop
– Illustrator
– Corel Painter
– Lightroom
– SketchBook Pro
Touch Bar and Keyboard
Simulate Touch Bar for any Mac with macOS Sierra 10.12.2 or later.
Support bluetooth keyboard input from iOS device (including Smart Keyboard for iPad Pro).
For any questions or suggestions,
contact us: help@yamdisplay.com