Workaround for macOS High Sierra 10.13.4 or later
Yam Display provides a workaround for macOS High Sierra 10.13.4 or later. The workaround uses AirPlay® to extend display. The UX and performance is not better compared to the app with the previous macOS, but the key feature is restored. We are still searching for a better solution for the latest macOS.
Known issues of AirPlay workaround for macOS High Sierra 10.13.4 or later
– The workaround requires environment for AirPlay. If you have issues in extending display, please check the followings:
Launch  > System Preferences > Displays and check

"Show mirroring options in the menu bar when available"

checkbox. If you don't see the checkbox, your Mac does not support AirPlay.
Connect your Mac and iOS device to the same

Wi-Fi network

. You can try with mobile hotspot of your Smartphone when Wi-Fi is not available.
– Resolutions are limited to the horizontal ones provided by Apple TV, which do not fit to iPad display.
– Sometimes, extending display can be changed to mirroring. Please "Turn AirPlay Off" form the AirPlay menu and try again if it happens repeatedly.
– Sometimes, Yam Display does not disconnect immediately by unplugging USB cable. Please press the lock button of iOS device or quit app before removing USB cable.
– Yam Air started with USB cable connected can be disconnected when USB cable is unplugged.
* We expect the issues will be cleared by the next update of macOS: Mojave (10.14).
* Please contact us at help@yamdisplay.com for any questions.
Installation (High Sierra 10.13.3 or earlier)
macOS High Sierra requires you to explicitly allow a newly installed 3rd party system extension. To complete the installation, please allow loading the extension in System Preferences > Security & Privacy > General and restart your Mac.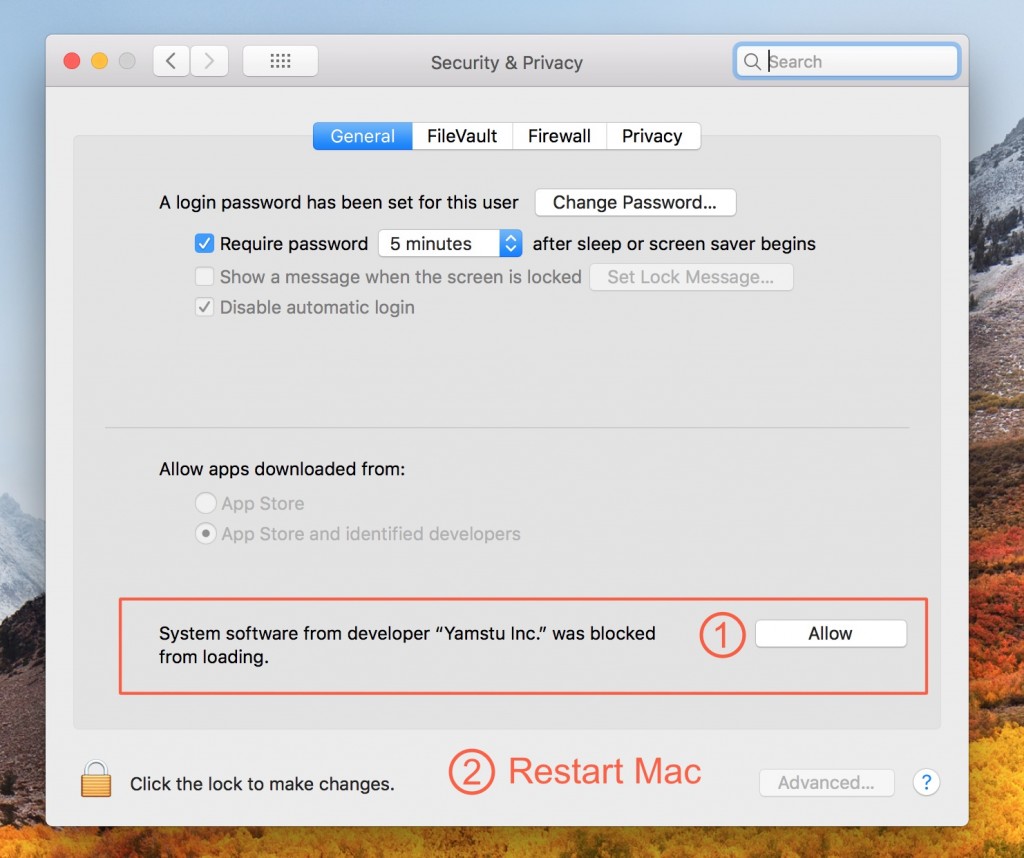 Known Issues
There is a performance issue of macOS High Sierra that requires more Mac resources than the previous macOS. Please reduce the frame rate or resolution for laggy cases. We expect the issue will be resolved as macOS High Sierra becomes stable.